See you on 25th January 2017
We invite you on 25th January 2017 to Warsaw - on the next edition of the conference HbbTV Summit Poland.
We propose to reserve this date in your calendar :)
Report from the conference
On 15 January 2014 the second edition of HbbTV Summit Poland took place, bringing together several dozen people who are interested in hybrid TV in HbbTV standard. The conference was held under the honorary patronage of Polish Chamber of Electronic Communication (PIKE) and Polish Chamber of Digital Radiodiffusion (PIRC).
The conference was started by Paweł Tutka, who reminded about the role of teletext in providing additional content on TV screens over decades. The teletext specification, unchanged for years, now - in times of internet popularity - turns out to be very limited, and yet many people still use teletext to check TV program or sports results.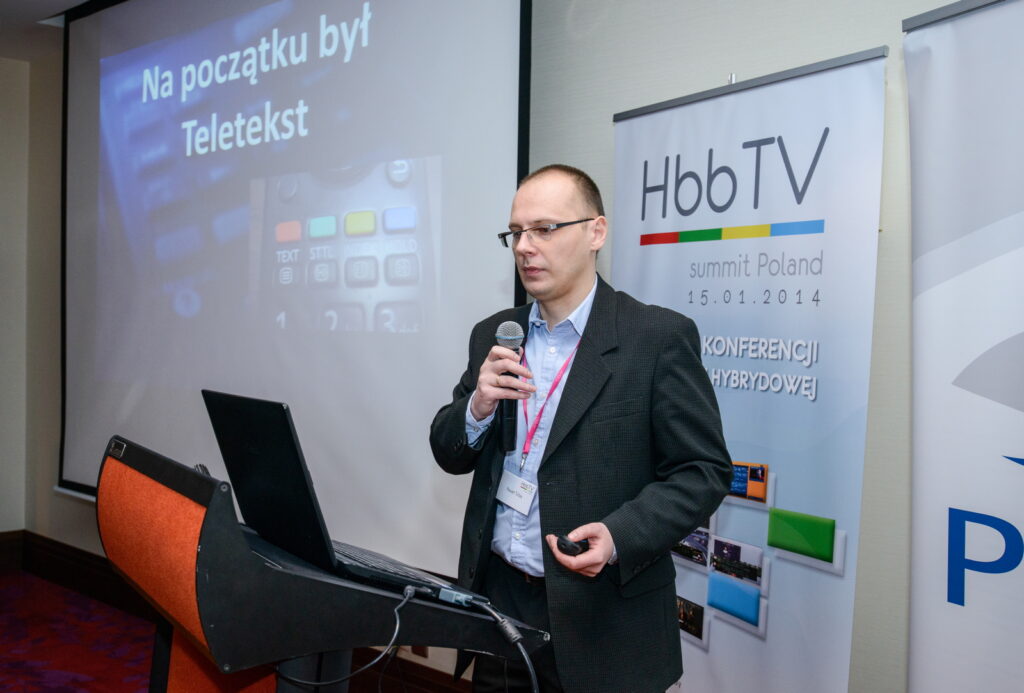 The habit of displaying this kind of additional content on a TV screen generates the demand for accessing interactive content with high-quality photos and video. This demand is perfectly satisfied by the concept of hybrid TV in HbbTV standard, which links together TV signal and content transmitted via the internet, tailored to be displayed on a TV screen.
The special guest at the conference was Dr. Klaus Illgner-Fehns - the Chairman of the HbbTV Consortium - who presented the current status of developing HbbTV in the world. It must be pointed out that Poland was one of the first countries that commercially implemented hybrid TV in this standard. HbbTV is becoming more and more popular in the world, and more and more countries have announced that this standard would be adopted and services would be commercially implemented by the broadcasters. During the presentation the audience was able to see many interesting examples of television services based on HbbTV, including television portals, games, video on demand and multimedia EPG.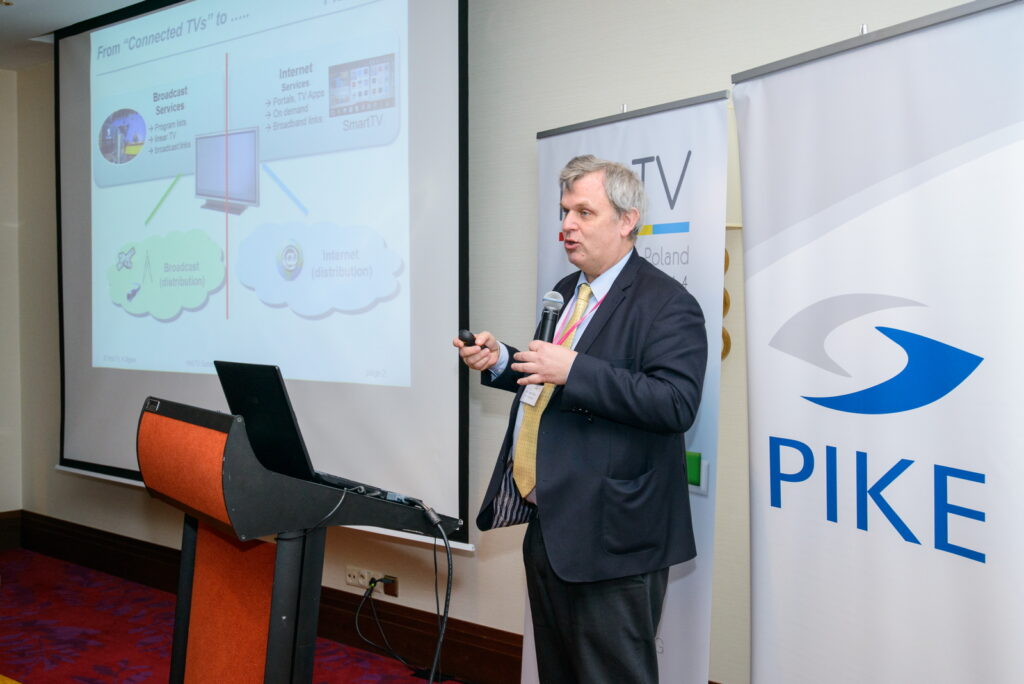 The leader in the development of HbbTV in Poland is Public Television TVP, which has deployed TVP hybrid platform in a few months' time. It contains several television applications in HbbTV, which are dedicated to individual shows and tv channels. HbbTV Summit Poland was an ideal opportunity to summarise achievements of TVP to date and to present the increase in the number of devices that receive hybrid television in Poland. These statistics show that in December 2013 there were more than 264,000 unique devices (TV/STB) receiving HbbTV from TVP. Wiesław Łodzikowski announced that in February this year the new services would be introduced in TVP Hub: EPG applications with suggestions and video, and VOD applications (known from Smart TV). It was announced that virtual video on-demand channels would be launched, dedicated to the 2014 Winter Olympics in Sochi and the FIFA World Cup in 2014. The participants of the conference were the first to see graphics that visualise the announced services. TVP estimates that in this way there will be more that half a million unique devices in Poland by the end of the year that use HbbTV service from TVP.
The currently available HbbTV service on ESKA TV channel was also presented during the conference, with the functionality to access radio stations streaming and weather forecast video. An interesting functionality of ESKA TV service is the ability to track original song lyrics for each video clip that is broadcast at the moment.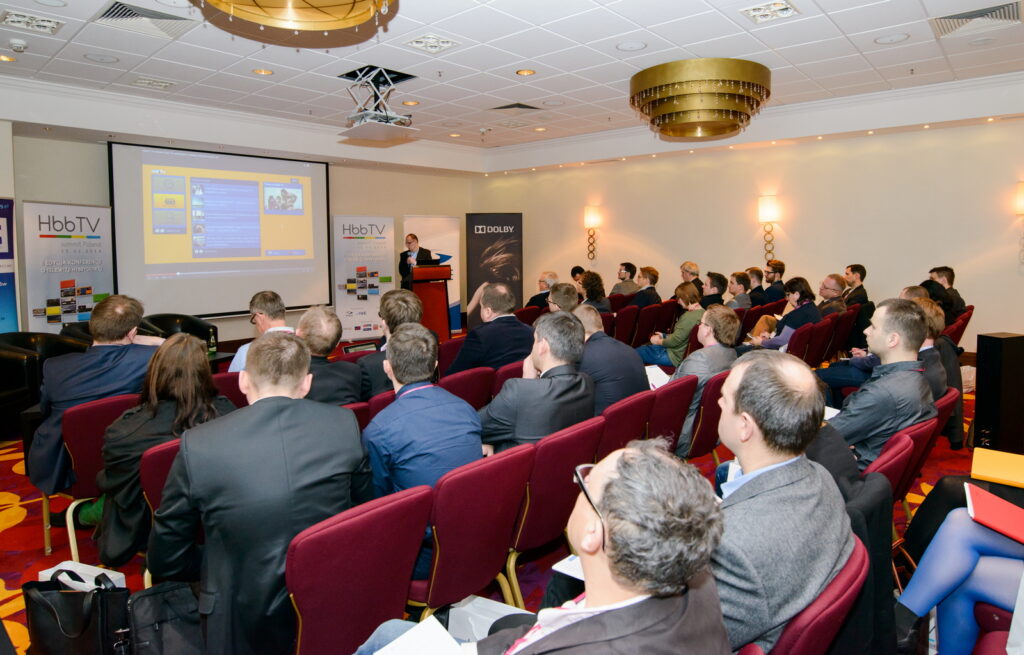 Talking about music: Iwona Kowalska and Bartosz Kusza from Dolby Surround delivered a lecture on surround sound in HbbTV. It was a good opportunity to become familiar with the role of MPEG-DASH and HbbTV in version 1.5 (i.e. 1.2.1 according to ETSI). "We are working now with Polish Television to support TVP in launching new services in HbbTV with Dolby Digital Plus" - said Iwona Kowalska.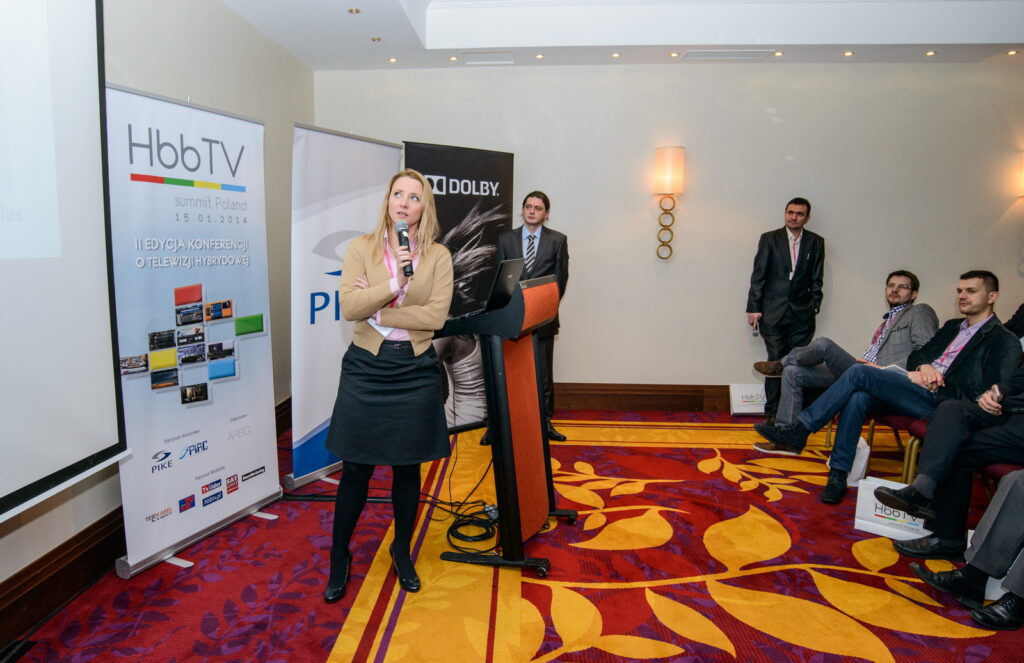 Throughout the conference there was an opportunity to learn the application "Dolby Digital Plus over HbbTV - Demo", which shows video with surround sound transmitted in MPEG-DASH standard.
Régis Saint Girons (CEO httv) presented the progress in developing HbbTV in different countries and showed a number of interesting examples of applications from the European market that already operate in HbbTV (related to VOD, news, education, advertising, T-Commerce, Second Screen).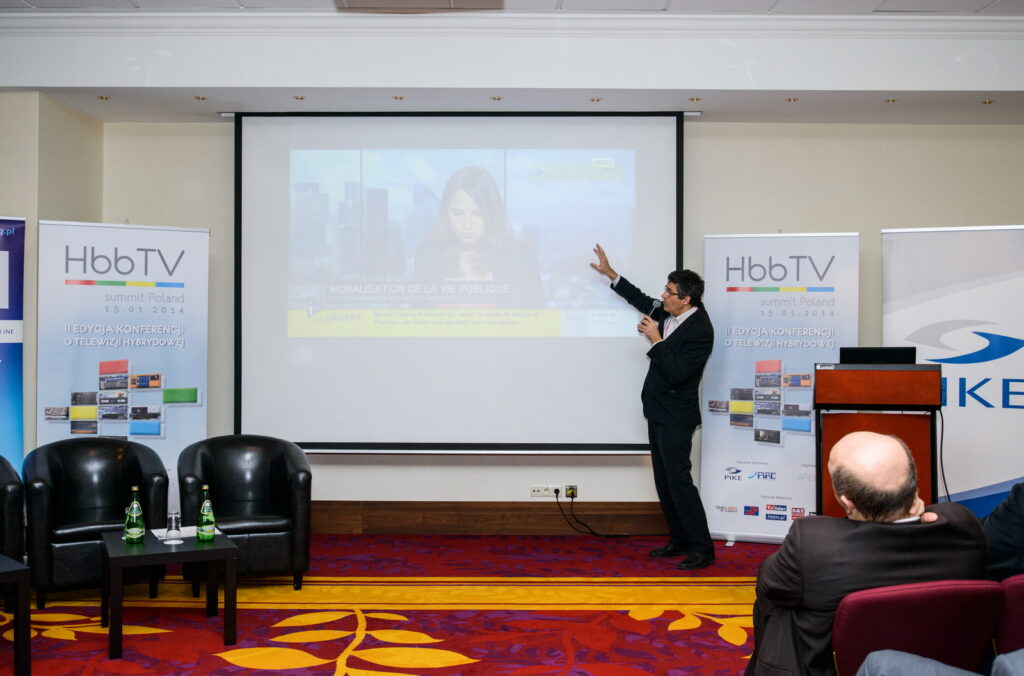 Jakub Majkowski from Tellyo company gave an interesting lecture showing the possibilities of mobile applications dedicated to television broadcasters. The potential for interactivity in hybrid TV perfectly fits the cooperation with mobile applications as Second Screen. Tellyo presented an interesting T-Commerce solution to distribute digital coupons via HbbTV.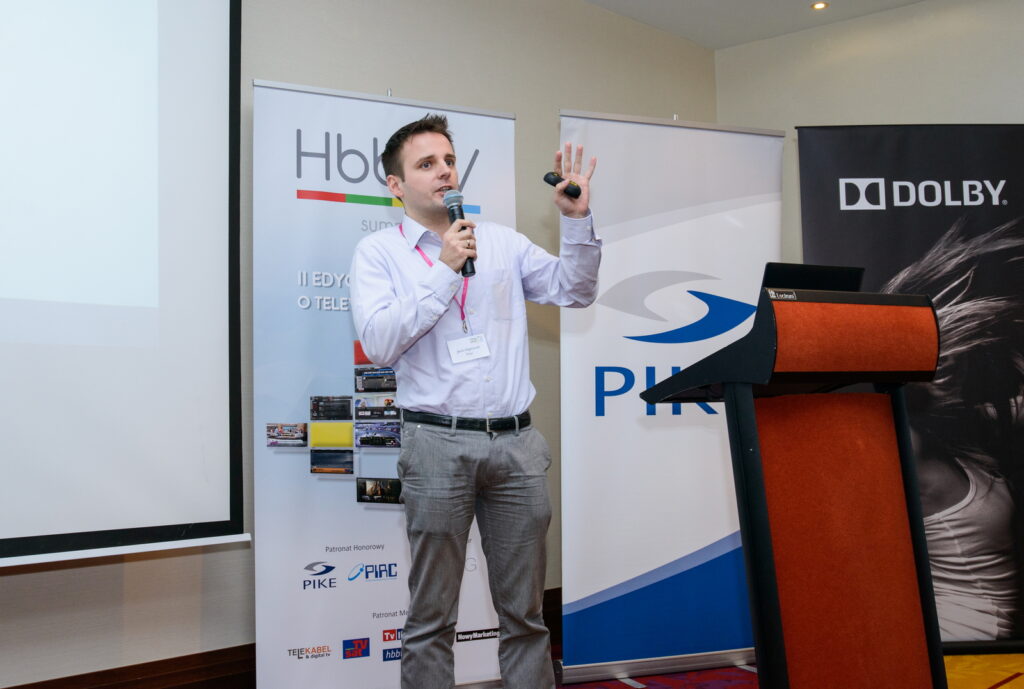 Radoslaw Brzuska from Aegis Media presented a case study of a HbbTV campaign for the film "The Hobbit", and shared his thoughts on the development of hybrid advertising in Poland.
Sylwia Chada from atmedia spoke about the perspectives of interactive advertising in TV as seen from the viewpoint of a media house.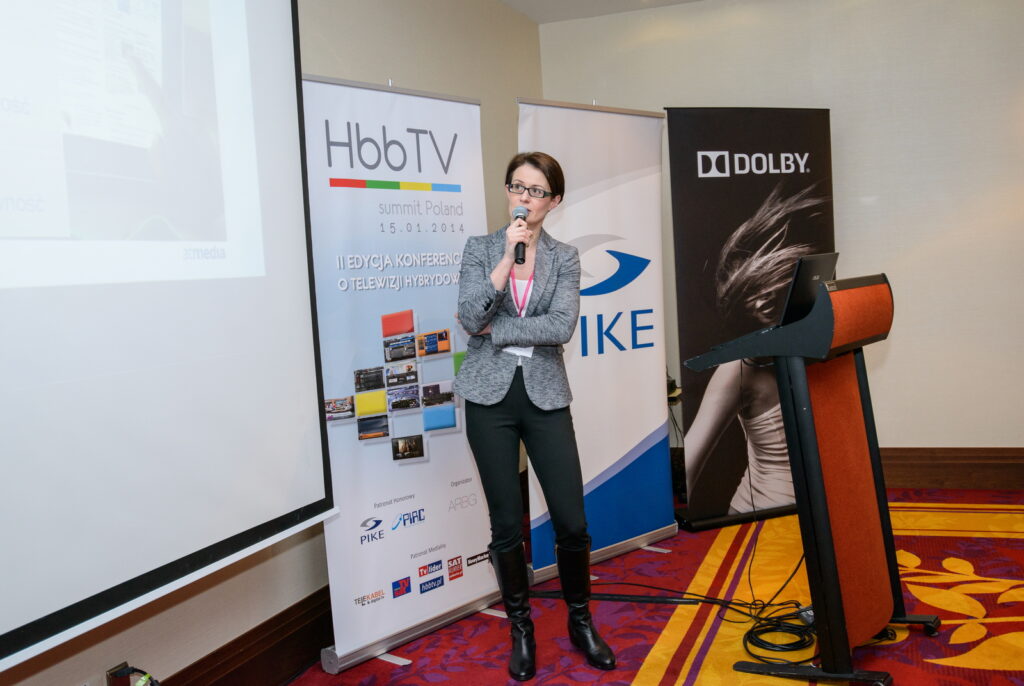 Tomasz Choroszewski from TVP Advertising Office presented the current opportunities for commercials in hybrid TV, and announced plans to introduce new forms of advertising in HbbTV.
HbbTV Summit Poland has become an ideal place to discuss the current status of HbbTV in Poland. The participants of discussion panels pointed out that there is no information as to which of the currently marketed TV sets can receive hybrid TV in HbbTV standard, and that different models of TV sets may display the same application in a different way.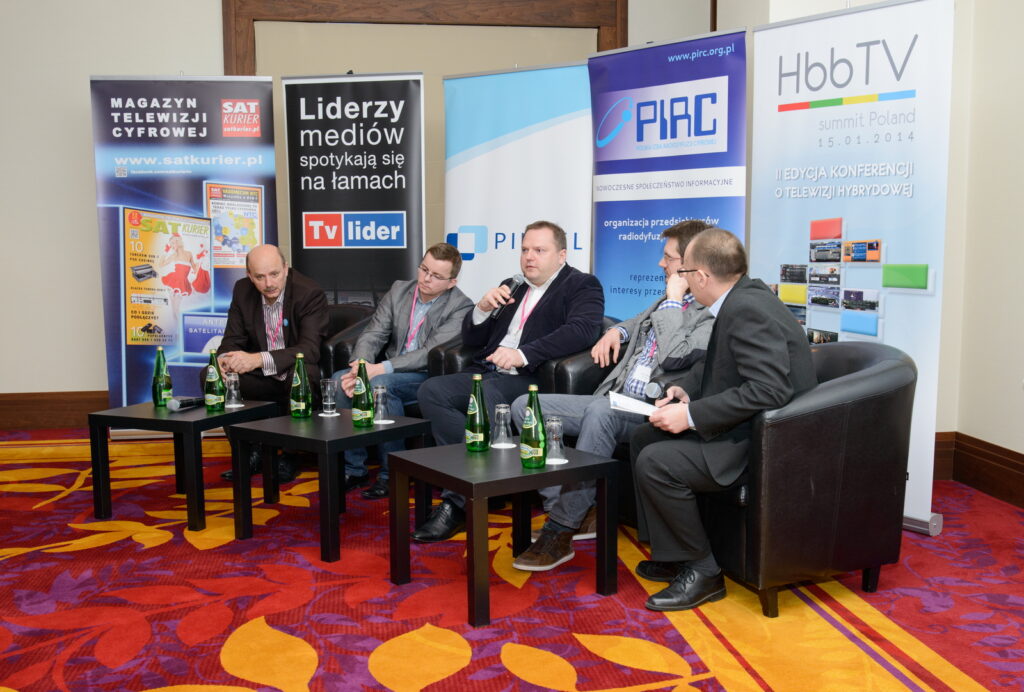 HbbTV signalling is still not available in most cable televisions and digital satellite platforms, which results in a low number of TV sets in Poland that receive TV HbbTV. It is advisable to further educate the public on how viewers can use the potential of HbbTV hybrid TV. For the further development of the market it would be crucial to include more broadcasters who offer via HbbTV the services known from Smart TV.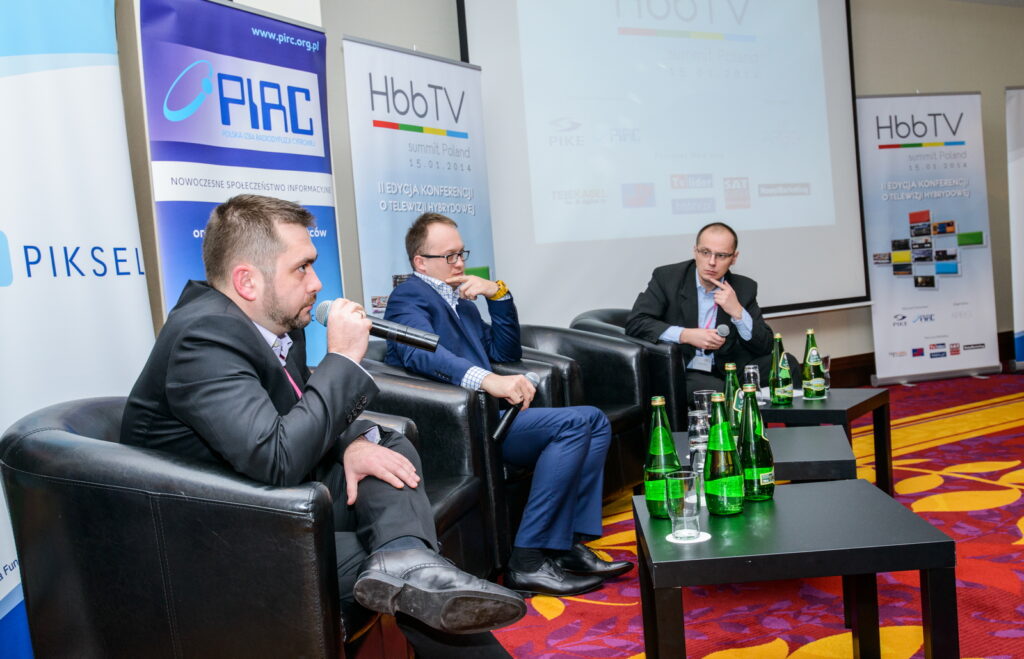 "The HbbTV Summit Poland showed what enormous potential HbbTV has in developing the T-Commerce market. The achievements of Polish television broadcasters have convinced me that we can actively participate in the development of T-commerce in the world. More than 250,000 devices using HbbTV in Poland are a sufficient basis to start creating guidelines for HbbTV hybrid advertising" – said Paul Tutka, expert on hybrid TV and Smart TV.
The next edition of HbbTV Summit Poland will be held in January 2015.
The second edition on 15 January 2014
Opublikowano:
On 15 January 2014 the second edition of the conference will be held in Warsaw, entirely devoted to the hybrid TV in the HbbTV standard. The participants of the conference will be able to learn about the current status of HbbTV in Poland and in the world. Representatives of Polish Television and ESKA TV will present their experiences in the development of interactive TV services.
A special guest of honour at the conference will be the chairman of the HbbTV Consortium - Dr. Klaus Illgner-Fehns, who will present the current status of work on the development and implementation of the HbbTV standard in the world.
The conference is dedicated to television broadcasters, developers of mobile and television applications, media houses, interactive and advertising agencies, and journalists interested in HbbTV, interactive television and Smart TV.
The conference will be held under the honorary patronage of: Polish Chamber of Electronic Communication (PIKE) and Polish Chamber of Digital Radiodiffusion (PIRC). The media patronage will be provided by: telekabel&digitalTV, TV Sat Magazyn, TV Lider, SAT Kurier, Nowy Marketing and hbbtv.pl.
The next conference already 15/01/2014
Opublikowano:
Please note that the conference HbbTV Summit Poland will take place on 15th January 2014 year.
From Monday you can sign up using the form on the web.
July 4, 2012 was held in Warsaw, HbbTV Summit Poland Conference
Opublikowano:
Thank you for participating in the conference.
TVP become a Media Patron of the Conference
Opublikowano:
Polish television (TVP) has become a Media Patron of HbbTV Summit Poland conference.
Support from PIRC and Obywatel HD
Opublikowano:
Polish Chamber of Digital Broadcasting(PIRC) and a famous blogger who writes about television ObywatelHD, has promised us their support in promoting the conference.
Media patrons both from Poland and Europe assure their support to us
Published:
With great happiness, we inform that Broadband TV News and SAT Kurier magazine, official Media Patrons of "HbbTV Summit Poland", will assure their support to the conference.
The Honorary Patronage
Published:
We have the real pleasure to inform that HbbTV Consortium took the Honorary Patronage over "HbbTV Summit Poland" conference.
HbbTV Summit
Published:
The subject of hybrid television has been very discussed lately in Poland since the first HbbTV tests carried out by television broadcasters. We decided to organize "HbbTV Summit Poland" conference on 4th July 2012 addressed to those who are interested in the topic. The meeting will be dedicated exclusively to the subject of hybrid television in HbbTV standard.
During the conference there will be an opportunity to listen to a speech of HbbTV Consortium's President Dr Klaus Illgner-Fehns. People who had been responsible for the development of hybrid television in Europe have also announced their participation in the conference. During panel session there will be an occasion to discuss about the future of HbbTV in Poland. The media patronage over the Conference has been taken by "Telekabel" magazine.
HbbTV Summit Poland is a conference that focuses on hybrid TV and interactive TV advertising