What is HbbTV Summit Poland?
HbbTV Summit Poland is the annual conference, organized in Warsaw, where people involved in the development of hybrid TV in Poland and in the world meet together.
There were two editions of HbbTV Summit Poland so far, during which TV applications available in HbbTV were presented and the hybrid TV market was discussed. HbbTV Summit Poland complements the series of TV Applications conferences that focus on Smart TV. These topics were divided into two separate conferences because of significant differences between HbbTV and Smart TV.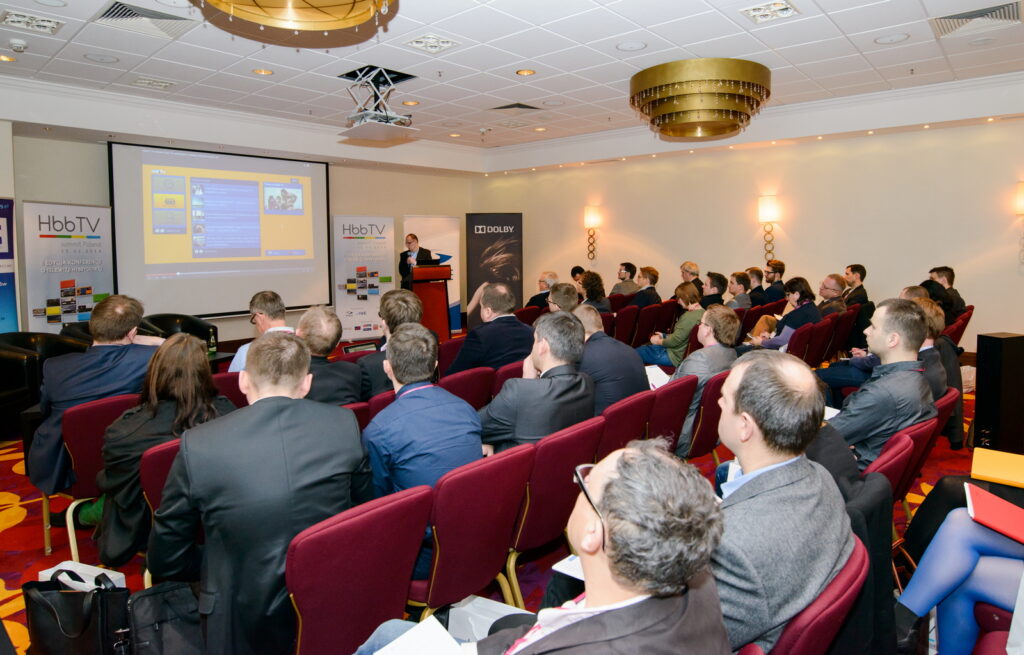 During HbbTV Summit Poland in Warsaw lectures were delivered by people who are responsible for development of HbbTV in the world, including Mr. Klaus Illgner — Chairman of HbbTV Consortium, and Mr. Régis Saint Girons from Httv.
Discussion panels on HbbTV and hybrid advertising were moderated by Paweł Tutka, who initiated the development of HbbTV hybrid TV in Poland and who was the consultant on the implementation of HbbTV in TVN and Polish Television. Paweł is actively involved in the development of HbbTV and interactive television in Poland.
The conference is dedicated to people from television and advertising industry, owners of video content, representatives of media houses, and journalists who specialise in topics related to television and advertising.
Topics discussed at the conference
Participating in HbbTV Summit Poland you will learn:
What is HbbTV hybrid television?
Who in Poland has access to HbbTV hybrid television?
How does HbbTV differ from Smart TV?
Who is involved in developing hybrid television in Poland?
How to implement T-commerce projects based on HbbTV?
How to prepare TV applications and OTT services dedicated to HbbTV?
How to engage viewers to watch interactive TV ads?
What is a hybrid ad in HbbTV?
How to personalize content for viewers of HbbTV hybrid television?
What will television look like in the future?
The participants of the conference
We encourage the following groups of people to participate in the conference:
People responsible for development of the new media and television services for television broadcasters.
People from technical departments of digital cable TV operators and digital satellite platforms who are in charge of implementing new television services.
Media planners.
People who develop VOD TV applications for Smart TV platforms and for mobile devices.
People interested in interactive television.
People from legal departments who are responsible for preparing contracts on new television services, covering topics related to OTT, VOD, HbbTV, iTV, Second Screen, Smart TV, Social TV, Connected TV, Red Button, and Teletext.
Enthusiasts of new TV technologies.
Persons representing producers of TV sets and STB.
Television producers who are interested in expanding TV formats with elements of interactive television and Social TV.
Representatives of government and administration who are responsible for developing media market and e-services in Poland.
HbbTV Summit Poland is a conference that focuses on hybrid TV and interactive TV advertising